Do I know enough?
The Science of Information Completeness
[This is the 2nd writing of the persuasion series I'll be doing over the next few weeks. Find the first article here.]
Why is this important?
For Product Managers (and many others) it's essential to understand and modify opinions. Nevertheless, almost no one thinks systematically about attitudes. This can give your products and your career a tremendous advantage.
One factor that influences attitudes is the completeness of the information. Before making a decision you're asking yourself "Do I have enough information?". Consciously or not.
What factors influence information completeness?
To keep it simple we're going to settle on three main factors as by done Rucker et al.:
Amount of information

Consideration of both sides

Perceived thought
There is no objective assessment of information completeness. It is a subjective evaluation.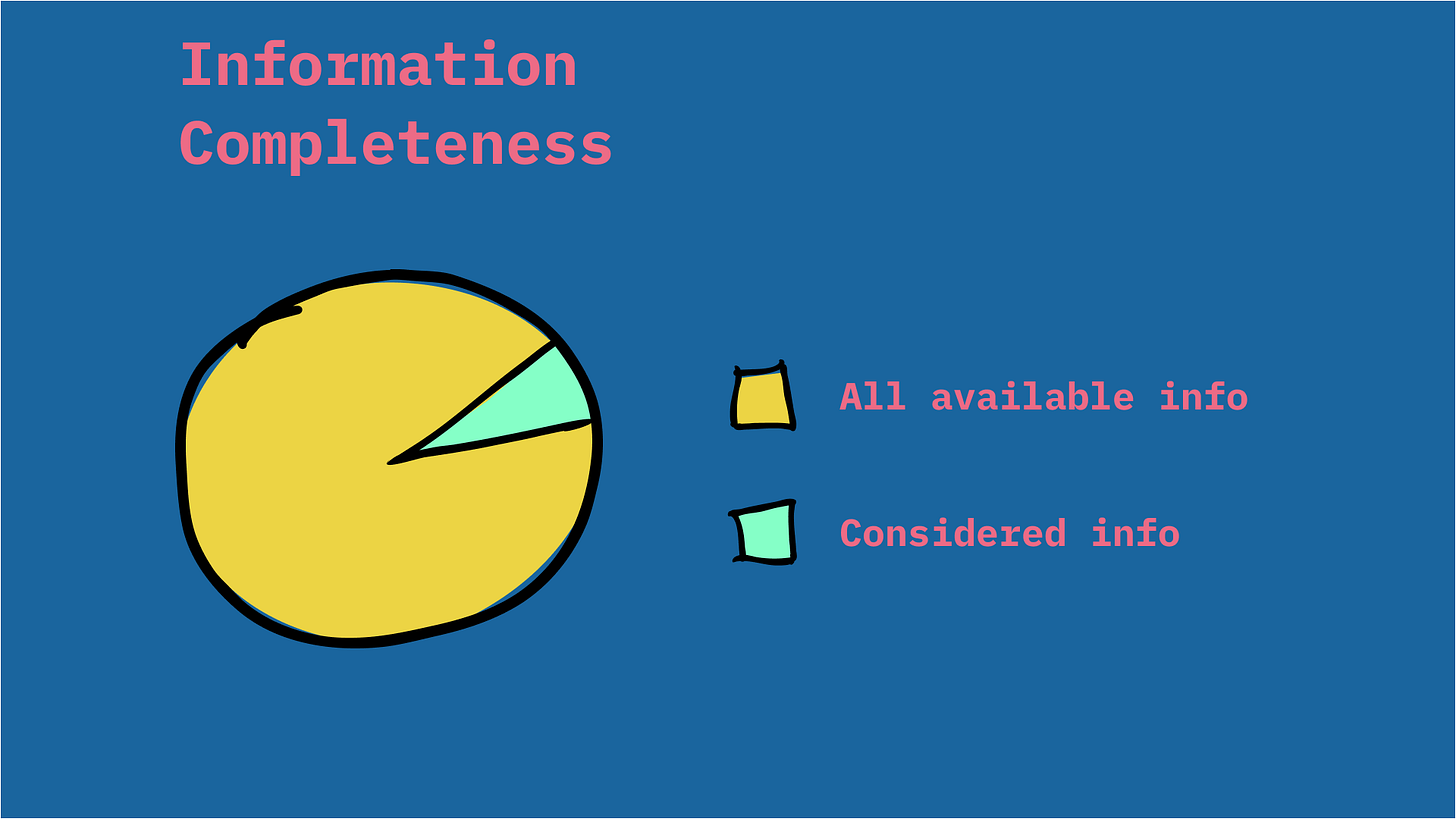 Amount of information - more is better
In general, more information increases attitude certainty since it signals fewer unknowns. This does not mean that all information needs to be consumed to have this effect. It's helpful to highlight that sufficient information is available.
Those effects were shown in several studies. In one experiment two groups of participants were either prompted or not to consider various features of a bike. Then they were given information about the bike highlighting additional features. The participants that were prompted on specific features earlier had concerns if they have enough info [Sanbonmatsu et al].
PM Application:
Think about what elements are relevant for your stakeholders to consider it complete. Make sure those are covered (eg. Engineering will question tech, Finance looks for KPIs, etc.)

Use it to your advantage to soften arguments. "Have we taken into account the sales feedback?". That's why battle cards for sales are useful to point towards areas the competition is not covering. This can be leveraged to modify buying decisions

Always come prepared for presentations with various stakeholders. A backup section in the slide deck is a good way. God beware don't put all info in the main deck! Your goal is to leave the recipients with the feeling that all information is available or considered
Consideration of both sides - show critical evaluation
In my previous article, I showed accuracy is perceived higher when only one side is considered. It is thought of more complete though if both or multiple sides were evaluated. It depends on the situation what card you want to play.
It's obvious that only considering one option does not make you feel confident when making high-stakes decisions. For example, when choosing what to eat it is usually preferred to not overthink.
An interesting study on opposition framing shows that when you are considering why you are not voting for another candidate your certainty on your preferred candidate increases. It also creates more persistent opinions. [Bizer et al.]
PM Application:
Show the pros and cons. Having a counterargument upfront saves distractions in negotiations later

Don't position your product as a jack of all trades. Leverage your specific advantages over the competition. This is a battle bigger Enterprises usually cannot fight and a good tactic for startups or niche products
Perceived thought - focus supports confidence
People are more certain when attitudes are considered in a careful manner. Every marketer is dealing with this. There is zero attention and people don't take time to think things through thoroughly.
The depletion effect states that "consumers perform more poorly on a self-regulatory task when they have previously engaged in a task that is resource-demanding (i.e., depleting) compared to one that is not resource demanding" [Wan et al.]. It's a common technique (which I wouldn't recommend) in negotiations to deplete the participants and make a decision then.
What you want to achieve is that the participants or customers evaluate the issue thoroughly to reach a meaningful and persistent attitude. There are no hacks - it requires focus.
PM Application:
Ensure a distraction-free environment. The internet is full of advice but it is a constant challenge to gain the full focus of all participants. It pays off though. One famous tactic is the silent memo reading session at the beginning of meetings at Amazon.

Do end-of-meeting-summaries. Emphasize all considerations applied to the issue. Collect the relevant thoughts that lead to an all agreed-upon decision. This skill is a superpower if done properly. I'm sure you attended a meeting where someone managed to get his interest fulfilled while doing the summary. It's a very active process that can help to drive a decision. I'll go into more details on how to do this if there is enough interest
As recommended in part one of this series - become an attitude scientist. Prepare and study thoroughly. The payback will be immense.
[Don't miss the next article of the persuasion series dealing with relevance and subscribe to the Product Psychology newsletter.]